BRACHIAL PLEXUS BLOCK WITH NERVE STIMULATOR
Supraclavicular Catheterisation
Infraclavicular Catheterisation
Classical Approach
Axillary Approach
Posterior Approach

Dr.R.Silamban(Asst. Professor)
Supraclavicular Catheterisation Part I
Supraclavicular Catheterisation Part II
Supraclavicular Catheterisation Part III
BRACHIAL PLEXUS BLOCK –SUPRACLAVICULAR APPROACH
Introduction:
Cornerstone of upper extremity of regional anaesthesia. It is used extensively in clinical practice. Various techniques of reaching the brachial plexus from the supraclavicular site are described. In this approach the drug is delivered at the level of the trunks which is the most compact part of the brachial plexus.
In any supraclavicular technique the chance of pneumothorax will always have to be kept in mind. The dome of the pleura is in close relationship to the convacity of the first rib. If the needle is introduced close to the lateral border of the clavicular head of the sternocleidomastoid as usual, the chance of pleural damage is high. In this technique which we are going to describe, the needle is introduced between the two scalene muscle which is a safe 1.5cm away from the dome of the pleura. It is always better to have a safe distance 1cm from the pleura.
Distrbution of consistent anaesthesia
It can be used for any upper extremity procedure from the shoulder to the fingers. Distal digital pressure makes the drug to rise up to the level of the roots and making surgery in the alteral half of the clavicle also possible.
Position:
Patient is supine, hands on the side, head turned to the opposite side.
Landmarks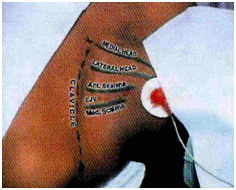 Clavicle, lateral head of sternocleidomastoid, scalenus anterior and medius muscle, external jugular vein.
Site of needle entry
In the interscalene groove about 1.5 to 2 cm above the clavicle.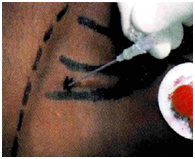 The patient is asked to lift his head up to make the lateral head of sternocleidomastoid prominent. After the lateral border of the sternocleidomastoid is identified, the fingers are slowly moved laterally to feel the anterior and medial scalene muscles and the groove between them is appreciated. A point 1.5 to 2cm above the clavicle is marked in the groove and a 5cm long needle with nerve locator attached is entered through the skin. The needle is directed towards the ipsilateral toe. The needle is advanced till a 'pop off' is felt signifying entry into the perivascular sheath. Now the nerve locator isswitched on at 1mA current. At this point muscle twitches are invariably seen. A current greater than 1mA may be uncomfortable to the patient. As the brachial plexus is in close proximity to the inferior surface of the scalene muscle, difficulty in nerve location does not occur. The current is slowly reduced -.2mA to get the desired response below 0.6mA. At this point the drug is given.
Motor response to nerve stimulation
The following motor responses are elicited and result in the same success rate.
| | |
| --- | --- |
| | Pectoralis muscle twitch |
| | Deltoid muscle twitch |
| | Triceps muscle twitch |
| | Biceps muscle twitch |
| | Hand and forearm muscle twitch |
Rhythmic movements of the shoulder, elbow, hands and fingers are seen. Form ideal results the twitches should be obtained at less than 0.6mA. Twitches of the neck muscles and movement of the scapula are not considered.'The initial sign of supraclavicular blockade is loss of should abduction which occurs before sensory block'.Advantages
| | |
| --- | --- |
| | Drug is delivered at the level of the trunks which is the most compact part of the brachial plexues. So success rates are high. |
| | Rapid onset |
| | Dense anaesthesia |
| | Predictable result |
| | As the needle is entered about 1.5cm above the calvicle, chance of phenumothraox are very rare. |